Summer has come to Tokyo, the rainy season is ending and long weekends are coming up. Time to start planning trips. How about cycling on the largest of Tokyo Eleven Islands?
Izu Oshima (伊豆大島) is the largest among the Izu Islands and belongs to the administrative region of Tokyo. Because of this the streets are properly maintained and the abandonment and desolation that plagues so much of Japan's picturesque countryside is kept to a minimum. At the same time it is far away enough from the over urbanized Tokyo to have spacious roads and pavements, beautiful landscapes and unobstructed view (including the stars!)
Izu  Oshima can be reached by Ferry or Air. A daily slow Ferry is operated from Tokyo's Takeshiba pier as well as a jetfoil ferry. The first gets you to Izu Oshima in roughly six to 8 hours, the latter in about 2. For air – there are a few daily flights operated from Chofu Airport, that will get you to the island in under half an hour.  Izu Oshima is a popular destination especially on long weekends, so tickets sell out fast. Book in advance during peak seasons.
If you plan to cycle on the island it is recommended to take the slow ferry, as you can bring more luggage along and don't have to take your bike apart to fit into the luggage size limitations of the jetfoil ferry. The ferry has 4 classes ranging from economy to premium VIP, but if booked over the phone you can also reserve deck tickets. Just find yourself a nice spot when you board the ship but keep in mind those are "first come, first served".
Typically, you would take the overnight ferry departing on a Friday night at 11pm from Tokyo and arrive in Izu Oshima in the early hours, around 5am. Izu Oshima has two ports and the caption will make an often times very short notice call, which port he will call. While they are on opposite sides of the island, if you have a pickup arranged or will be taking a taxi – the locals will meet you at whichever port the ferry will call.
Amenities on board include toilets, showers, restaurant (mind the opening hours) and a 24h vending machine corner that serves both drink and reheated frozen foods. While not a gourmet choice, the food selection is quite decent and the taste is ok for a price tag of around 400-5000 JPY on the high seas.
In the end, the best thing to do, is to make yourself comfortable, take your earplugs and an eye mask and try to get as much sleep as possible. The rocking of the ship will do the rest. If you tend to get seasick, you can easily get motion sickness medicine in any pharmacy. 乗り物酔い  (のりものよい, norimonoyoi) – motion sickness in Japanese.
We had decided for camping on the island and there are two campsites: 
Toshiki Camp Site 
Located at the southern tip of the island, this is a free camping site surrounded by mountains from 3 sides and opening up to the sea on the fourth. The view is breathtaking and there are both open grass areas and covered tree areas depending on your preference for camping. Despite being free, the site comes with toilets, outside cold showers, kitchen areas and the biggest luxury of Japanese outdoors – trash cans. Various roofed and unroofed bbq pits are also spread all over the area. Extra plus – the part of the beach accessible from the campsite features a concrete pool, so you can go for a dip without worrying about the currents. Enjoying the sunset form the water, anyone?
Address: Sashikiji, Ohima-cho, Tokyo, Japan 〒100-0211
Phone: (+81) 04992-2-1446
Fee: Free
Website: https://www.town.Oshima.tokyo.jp/soshiki/kankou/toshiki2018.html (Japanese only)
Umi-no-furusato-mura
Located on the eastern side of the island, this site too is on a cliff with a breathtaking view of the ocean and sunrise. This is a paid campsite and reservations are required in peak season. However you also get much more services. They offer a pick up service from the ferry port during peak season and a free pickup from the nearby bus station "Oshima Park". For those travelling on the light, it is possible to rent tents; hot showers shampoo and soap are available on site. They have a bbq pit, a tennis court and a swimming pool in summer, as well as a beach access. If you wish to bbq, you should tell in advance, so they can tell the local grocery shop to stock up accordingly – That's small island life for you, 
Address
〒100-0211, Genya 2-1 Senzu, Oshima-machi, Tokyo
Telephone
 (+81)4992-4-1137
Website & Fees
www.town.Oshima.tokyo.jp/site/umifuru(Japanese Only)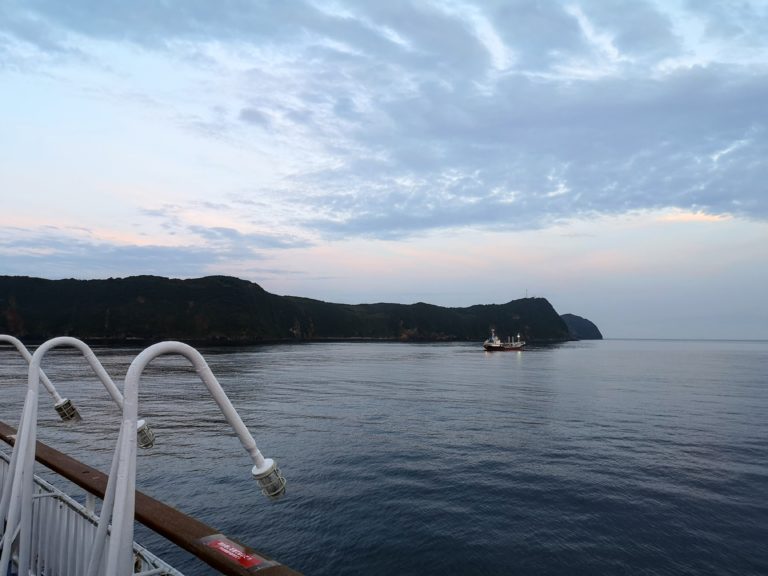 For those who don't come with their own bicycles you have a few limited options to get around freely. Taxis on the island are very limited and if you are unlucky, you might easily have to wait for an hour until pick up. There are buses circumventing the island, but the last but goes around 5 pm, so plan accordingly. Car, scooter and bicycle rentals are also available with most outlets concentrated around Motomachi port, but can be booked out during high season, so booking in advance is advisable. Finally hitchhiking is always an option and worked out quite well for us. But as always with hitchhiking, take care, follow reason and your gut feeling.
Aside form camping, barbecue and beach, Izu Oshima offers the following activities: 
Among Japanese Izu Oshima is mostly known for Camelia Flowers (Tsubaki). Most can be found in Oshima Park. The period of blooming varies by variety, but usually lasts from January until March. Every Year a Camilia Matsuri (Festival) is held in Izu Oshima.
Hiking – The most popular hiking destination would be Mt. Mihara. It is an active volcano, prone to violent eruptions, the latest one being 1990. A particularly violent eruption in the late 80's led to the evacuation of the island's inhabitants. Leftover volcanic rock can be seen piling up alongside the eruption site and the path of the Lava is still clearly visible. Mt. Mihara stands 758m tall and is the heart of the island. The hiking trail will lead you up a gentle slope to the crater and around the caldera, measuring 300m in diameter and 200m in height. The views are breathtaking!
Onsen – Several of the island's inns have onsens and allow daytime visitors for a price of 800-1000 Yen. The onsen with the nicest view however is Motomachi Hama no Yu – situated on top of the cliff walking distance from Motomachi Port a beautiful sunset can be enjoyed from there. There is only one outside pool, that is mixed, so wearing a swimsuit is mandatory. Admission costs 300 Yen.
Cycling – given the size of the island with a circumference of 50km and the hilly terrain it is not easy to get around by cycling if you are not in good physical form. Stay well hydrated and bring enough water with you. Shops and vending machines can be scarce on the island.